Discover the history, architecture and culture of Charleston with a local guide!
All Charleston Perspective walking tour guides are local Charlestonians.

Explore the cobblestone streets, hidden passages and alleys, as you uncover the history, the architecture and the culture that make up the framework of this centuries old town.

From the founding in 1670 through wars, earthquakes, fires, hurricanes, religious diversity, the slave trade, the Gullah/Geechee culture, economic swings to present day growth and expansion.

See many historic sites along the route including Rainbow Row, the Old Exchange, the Old Slave Mart museum, Churches, the Harbor, High Battery and more.

The 2 hour walking tour will end the courtyard of the Middleton Family Home, built in 1783, in the heart of the walled city district. Prince Charles visited the same courtyard in February of 1990.

Check out our Things To Do page to continue your experience in Charleston.
Charleston Perspective

Walking Tours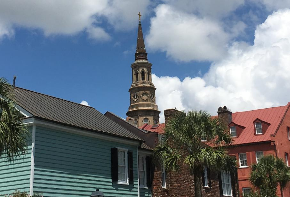 Discover the history of Charleston with a local, licensed and certified guide.
Explore the cobblestone streets as you uncover little known history of Charleston including the 50 years of Proprietory rule, the Charleston Tea Party, the 1st decisive victory of the Revolutionary War at Ft Sullivan, the African art form of the Gullah/Geechee sweet grass baskets, the trash fill that makes up 50% of the peninsula of Charleston, the religious diversity of the holy city, the unique architectural style of the Charleston Single House and more.
Come away from the walking tour with a better understanding of the complex history of this centuies old town, and a better knowledge of the distinctive architectural styles and features. You will have a better understanding of the the culture and people who lived in and built the structures that have withstood centuries of hurricanes, wars, earthquakes and fires.
Discover Charleston's history with Charleston Perspective!
Call or Text (843) 460-8671
charlestonperspective@gmail.com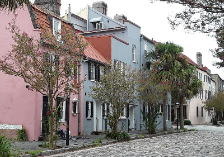 2 Hour Daily Walking Tour
$30 Adults, $15 Child(6-12), Free (Infants-5)
10am Tour (Year Round) 1pm Tour (Limited - September thru April)
Click on BOOK NOW button to check availability
Private Tours Available Call, Text or Email for more information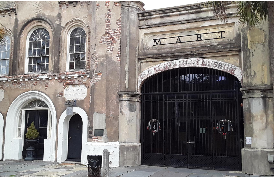 For larger groups, guests will have the option to use a personal listening device to better allow for social distancing. The guide will provide an earpiece, the device has a 3.5mm port. Feel free to bring your own headphones or earbuds to use.